Our Story
Begins with my father
Long before the promenade of boats motored through the thick July twilight—before the pyrotechnics screamed across the sky or the explosions echoed like ancient drums throughout the mountains—a young man pitched an idea on a tennis court.
"I want to raise money for a 4th of July fireworks show—we could shoot off the island in the middle of the lake, and everyone could drive their boats out to go watch…"
A young Hal Rhoad had been asked by Mason Whitney to take over the annual summer fireworks show he started 5 years previous, for his wife's 50th birthday. He suggested a mailer to the homeowners and when Hal let his father, Guy Rhoad, in on the idea, Guy proposed an additional plan of action.
"Why don't you let me round up some of our tennis partners (Many of you probably remember those tennis matches in Moccasin Creek!) and you can pitch them directly?"
It was a simple ask, first on the tennis court and then in a letter: "I'll handle everything… if you'll each donate a small amount.  And if it works, we'll have a great show and I'll reach out again next year!" 
It's been four decades since those tennis players first pledged their support, the mailer went out, and the checks poured in. Every year since, Hal has written a letter to Lake Burton homeowners asking for a small donation per family. And every year since, Lake Burton has banded together and enjoyed a magical Saturday night on the water.
Independence Day isn't about the dazzling light show or the tantalizing smells drifting across the cove from a neighbor's boathouse. It's really about family—our immediate relatives, far-flung cousins, and a great nation we're blessed to share with brothers and sisters from sea to shining sea.
So please know, we do this for you and we do this for them. Hal has never taken any money for his efforts. He's a volunteer, a semi-retired family man, a father of four—anxious to be a grandparent (Give me some time, Dad!)—and a satisfied Lake Burton kid who grew up and became one of the homeowners he pitched, all those years ago. I'm proud of him. And I'm proud of our Lake Burton family.
Hope you enjoy the show. See ya on the water.
— Clifton Rhoad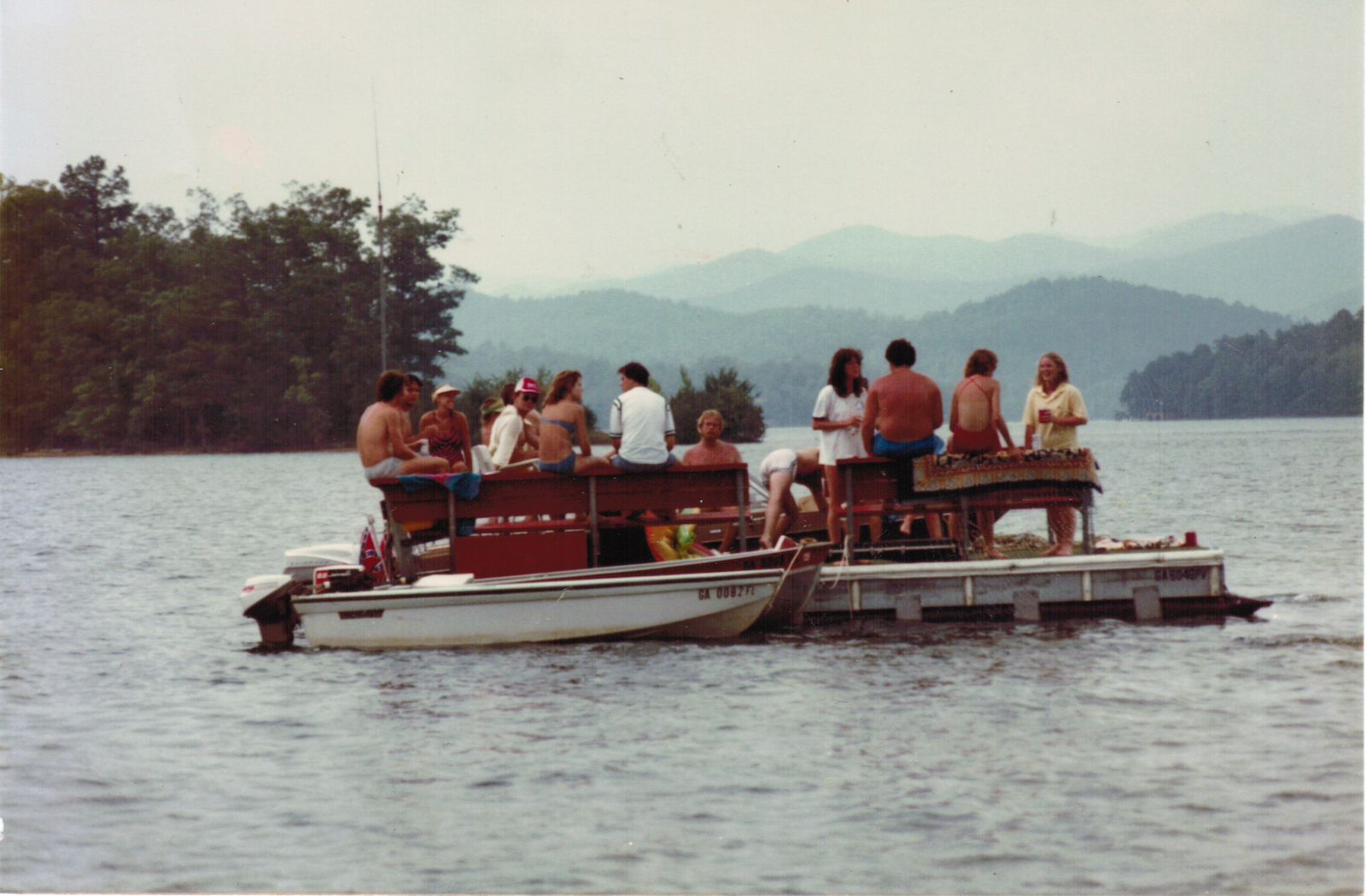 Hal Rhoad and friends on the infamous Party Barge in front of Billy Goat Island